What's more important than beauty? Minnie Driver finds out in 'Beautiful'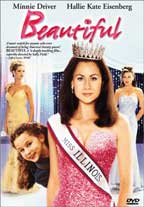 Columbia TriStar Home Video is getting ready for a February DVD release of a movie that explores the truth of beauty and the beauty of truth: Beautiful (2000).
Ramona never dreamed of anything else but wearing the 'Miss America' crown. Armed with ambition and self-promotion, Ramona teams up with a deeply-dimpled little girl, Vanessa. Together they suffer a hilarious campaign of photo-op mishaps, but at the moment of truth, both of them find something entirely more Beautiful.
Directed by Sally Field, this movie boasts an impressive cast that includes: Minnie Driver, Hallie Kate Eisenberg (you know, that incredibly cute but scary little girl from the Pepsi commercials?), Linda Hart, Joey Lauren Adams, Kathleen Turner, Kathleen Robertson, Michael McKean, and Gary Collins.
The disc will include an anamorphic widescreen transfer, letterboxed at 2.35:1, as well as a Pan & Scan version. Audio will include both Dolby Digital 5.1 Surround and Dolby 2-channel soundtracks. Spanish and English subtitles are both available. Extras have not yet been announced.
'Beautiful' will be released on February 20th. The suggested retail price will be $24.95.