Universal to release 'The Mummy Ultimate Edition DVD'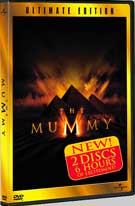 Due to advances in technology and consumer demand, we've gotten used to seeing re-issues of DVDs that initially saw release in the early days of the medium (four whole years ago!). To follow suit, Universal Home Video is now issuing The Mummy Ultimate Edition DVD this coming April.
This release, obviously, is timed to coincide with the release of The Mummy Returns, which opens May 11th. Admittedly, this new 2-disc set will feature a great many extras that weren't available on the initial release. Though there isn't any mention of a new transfer (it seems unlikely that one would be necessary), Universal promises 'over six hours of entertainment'. Here's a look at some of the new material included in the set:
Storyboards and final feature comparison give you the opportunity to view the storyboards used by the director during the filmmaking process while the final sequence plays below, a script to scene feature which lets you read the script and access the existing scene in the final film, a photograph gallery, Pharaoh lineage: a look back at the pharaohs, an exclusive first look at the filming of the sequel, behind-the scenes footage and feature interviews with director Stephen Sommers and the cast of "The Mummy Returns". DVD-ROM features include an interactive Mummy PC game, "The Mummy Returns" theatrical trailer, access to a live webcast from the premiere of "The Mummy Returns", a Spotlight on Location featuring highlights of "The Mummy Returns" with director Stephen Sommers (is there a pattern here?), cast interviews and behind-the scenes footage.
Though there's no mention of it, we can hope that the extras on the original disc, which included deleted scenes and an audio commentary, will be included in this set.
'The Mummy Ultimate Edition' is scheduled for release on April 24th. The suggested retail price is $29.98.