The tough-as-nails 'Girlfight' takes a jab at DVD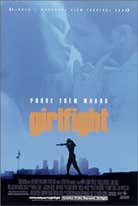 Columbia Tristar Home Video is putting on the gloves to bring us the DVD of the acclaimed Girlfight.
'Girlfight' is the story of a quick-tempered young woman who finds discipline, self-respect and love in the boxing ring. Once Diana decides she wants to become a boxer her priorities are forced into focus as she begins a grueling training regimen. She falls in love with a talented amateur and, under the careful tutelage of her trainer, she becomes the gym's first female champion.
Directed by Karyn Kusama, the cast includes Santiago Douglas, Jaime Tirelli, Ray Santiago, and features the remarkable lead performance of Michelle Rodriguez, who had only worked as an extra before this film, and yet was described by one critic as 'a female Brando'.
The movie is presented in both an anamorphic widescreen transfer, letterboxed at 1.85:1, as well as a Pan and Scan version. Audio is Dolby Digital 5.1 in English as well as Dolby 2-channel Surround in English, French and Spanish. Subtitles are available in English, French, and Spanish. Extras include a director's commentary, 'a making of' featurette, and trailers.
Girlfight is scheduled for its first bout on March 27th (forgive me for that one), with a suggested retail price of $24.95.