The original Beatles mockumentary: 'The Rutles: All You Need Is Cash'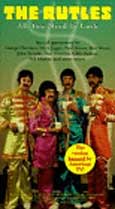 Monty Python fans and fans of The Beatles (those with a sense of humor, anyway) will definitely enjoy the news that Rhino is preparing the February DVD release of The Rutles: All You Need Is Cash (1978).
Made for television in 1978, 'The Rutles' is a loving Beatles spoof, featuring the fictional band The Rutles, led by Neil Innes and Monty Python's Eric Idle. Funny and perceptive, the spoof features new songs that sound oh-so-similar to many familiar favorites of the boys from Liverpool that lend a distinct air of credibility to the proceedings.
Directed by Eric Idle and Gary Weis (the movie started out as a skit on Saturday Night Live), the cast includes George Harrison, Bianca Jagger, John Belushi, Dan Aykroyd, Gilda Radner, Bill Murray, Eric Idle, and John Halsey.
The disc comes with the film's original full frame transfer and newly mixed Dolby Digital 5.1 Surround audio. Interviews are included on the disc, though with whom remains a mystery…
'The Rutles: All You Need Is Cash' will be released on February 13th with the suggested retail price of $19.99. Any Beatles parody that includes an album name like 'Sgt. Rutter's Only Darts Club Band' deserves at least a look…