The full detaisl for the Meet The Parents Collector's Edition are finally here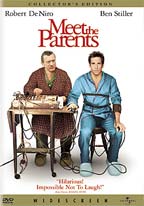 As we had announced some time ago already, Universal Home Video is getting ready to release the $170 million box office megahit Meet The Parents on DVD on March 6.
Featuring sharp performances by Robert DeNiro as the formidably judgmental father and Ben Stiller as the hapless young man under scrutiny, "Meet the Parents" also stars Blythe Danner as the serenely understanding mother, Teri Polo as the girlfriend caught in the middle, and Owen Wilson as the ex-fiance who still commands the affections of the parents.
Finally the exact details about the release have come in and we wanted to make sure to fill you in on the specs of this exciting title. Coming as a Collector's Edition, the DVD will feature an anamorphic widescreen transfer of the movie and comes with 5.1 channel Dolby Digital and DTS audio tracks. A "Spotlight On Location" Featurette on the making of the film, featuring cast and crew interviews and behind-the-scenes footage will also be part of the release. Further, director Jay Roach has contributed a commentary track for the release that also features producer Jane Rosenthal, editor Jon Poll, and cast members Robert DeNiro and Ben Stiller. A selection of Deleted Scenes can also be found on the disc, together with Outtakes, a Lie Detector Test and a Forecaster Game. A number of DVD-ROM features and the obligatory Trailer, Production Notes and Biographies will also be found on the DVD.
Are you ready to Meet The Parents?