The edgy independent comedy 'Nurse Betty' comes to DVD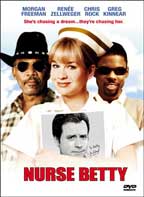 This April, USA Films will release the DVD of Neil LaBute's Nurse Betty.
A Kansas City waitress with dreams of becoming a nurse loses it after seeing her no-good car salesman husband murdered. Becoming delusional from shock, she becomes convinced that she is the former fiancee of her soap opera idol. What she also believes is that the soap opera is real and so she goes to LA to find the hospital where he works as a cardiologist. Meanwhile, her husband's murderers are searching for the drugs stolen by her husband and, as luck would have it, they are stored in the trunk of the car she drove off in.
Directed by Neil LaBute, the film stars Renée Zellweger, Kathleen Wilhoite, Morgan Freeman, Chris Rock, Greg Kinnear, Crispin Glover, Pruitt Taylor Vince, and Allison Janney.
The disc comes with an anamorphic widescreen transfer, letterboxed at the film's original aspect ratio of 2.35:1. Audio includes both Dolby Digital 5.1 and Dolby 2-channel Surround soundtracks in English. Extras include an audio commentary, deleted scenes, TV spots and trailer, the original screenplay and DVD-ROM features.
'Nurse Betty' will be available on April 3rd. Her suggested retail price is $26.95.