Studio Home Entertainment schedules Wim Wender's The Million Dollar Hotel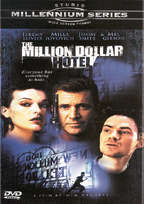 Studio Home Entertainment, formerly known as Sterling Home Entertainment, has scheduled Wim Wenders' The Million Dollar Hotel for release on April 3 with some interesting supplements!
Starring Mel Gibson, Tim Roth, Milla Jovovich, Gloria Stuart and Jimmy Smits, "The Million Dollar Hotel" is a dark suspense thriller that you don't want to miss. FBI Agent Skinner (Mel Gibson) has been brought in to solve his most bizarre case yet. In a downtown fleabag hotel, the son of a billionaire media mogul (Tim Roth) has mysteriously dies. Now, Skinner must find the murderer among the hotel's guests, uncovering a web of deception which runs deeper than he ever thought imaginable… and protects the guilty from justice.
Coming to DVD as a Millenium Special Edition, "The Million Dollar Hotel" will feature a 16×9 enhanced widescreen transfer of the movie in its original 2.35:1 aspect ratio, complemented by a 5.1 channel Dolby Digital audio track. The disc will also contain an audio commentary track by director Wim Wenders and U2 singer Bono, who supplied the music to the film. The DVD will also feature a never-before-seen U2 music video for the song "Ground Beneath Her Feet" that was also directed by Wim Wenders. Further, a number of cast and crew interviews, and the film's trailer will be found on this DVD release as well.
At least you won't have to be a billionaire to get into "The Million Dollar Hotel," as Studio Home Entertainment will sell you this DVD for as little as $24.99.