Rock & Roll and video in the late 80s: 'Tapeheads' is coming to DVD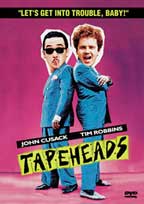 Anchor Bay Entertainment wants to take you back to the eighties with the music video industry parody Tapeheads (1988), due on DVD this March.
After being fired from their jobs as security guards, lifelong friends Ivan (John Cusack) and Josh (Tim Robbins) form 'Video Aces' to break into the world of music videos. But when they try to resuscitate the career of legendary soul duo The Swanky Modes (Junior Walker and Sam Moore), they find themselves careening through an outrageous underworld of chicken & waffles, Scandinavian synth bands, 'Menudo' concerts, and a presidential candidate with a fairy princess fetish.
'Tapeheads'features appearances by Don Cornelius, Connie Stevens, Stiv Bator, Martha Quinn, Ted Nugent, Bob Goldthwait, Susan Tyrell, Jello Biafra, Doug E. Fresh and Michael Nesmith, plus a fun soundtrack of songs by Fishbone, Devo, Circle Jerks, Dead Kennedys, They Might Be Giants, King Cotton, Bob Roberts, and more…
The disc will include an anamorphic widescreen transfer, letterboxed at 1.85:1. Audio is Dolby Digital 5.1 Surround. Extras include an audio commentary with director Bill Fishman, executive producer Michael Nesmith, and production designer Catherine Hardwicke, and a 16 Page, color booklet with photos and additional information about the film.
'Tapeheads' will be available on March 13th, for a suggested retail price of $24.98.