Paramount has your 'Lucky Numbers'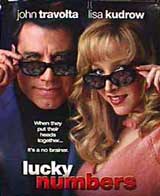 Paramount Pictures Home Entertainment is readying the release of the DVD of Lucky Numbers (Special Edition) (2000) this March. Hopefully, the home version will do a bit better, as the movie didn't fare too well (to put it kindly) when released to theaters.
The plot has potential: to get himself out of debt, a popular weatherman decides to rig the state lottery. But before he can collect his millions, he'll need a little help and 'a whole lotto luck'. (I certainly hope the actual script is better than that line…)
Directed by Nora Ephron the film sports an impressive cast which includes Lisa Kudrow, John Travolta, Tim Roth, Ed O'Neill, Michael Rapaport, Bill Pullman, Sam McMurray, and Michael Moore.
The disc will include an anamorphic widescreen transfer of the movie, with both Dolby Digital 5.1 Surround and Dolby 2-channel soundtracks in English. A French 2-channel soundtrack is also included. Extras include an audio commentary by director Nora Ephron, cast and crew interviews, and the theatrical trailer.
'Lucky Numbers (Special Edition)' will be released on March 20th. The suggested retail price is $29.99.