New Line is bringing the highly acclaimed 'Dancer in the Dark' to DVD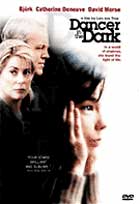 New Line Home Video is preparing the DVD of Lars Von Trier's award winning Dancer In The Dark for release in March.
Selma is a Czech immigrant, a single mother working in a factory in rural America. Her salvation is her passion for music, specifically classic Hollywood musicals. Selma lets no one know that she is losing her eyesight and her son Gene stands to suffer the same fate if she can't put away enough money to secure him an operation. When a desperate neighbor falsely accuses Selma of stealing his savings, the drama of her life escalates to an incredible finale.
Winner of the Golden Palm at the Cannes Film Festival, 'Dancer in the Dark' was written and directed by Lars Von Trier and stars the renowned singer Björk, who won an award at Cannes for Best Actress.
The disc will have an anamorphic widescreen transfer and will contain both Dolby Digital and DTS 5.1 Surround sountracks. Extras include audio commentaries by both Björk and Von Trier, 2 new featurettes: 'Film Factory: An Exploration of DV Filmmaking in Lars Von Trier's Creative Infrastructure' and 'Creating the Modern Musical: An Exploration of the Music and Dance', cast bios, the movie's trailer, and DVD-ROM features: the complete theatrical website and the 'New Line Hot Spot.'
'Dancer in the Dark' will be released on March 20th with a suggested retail price of $24.95.