More details on Cleopatra are here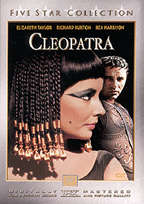 Last week we have announced that 20th Century Fox Home Entertainment has plans to release a spectacular Special Edition of Joseph L. Mankiewicz's 1963 monumental epic Cleopatra on DVD. On April 3 we will be able to behold this epic film in all its glory when it hits DVD in a 3-disc Five Star Collection release.
A lot of effort has been put into the restoration of this 4-hour movie for a perfect presentation on this THX-certified DVD release, but the good folks at 20th Century Fox Home Entertainment have also gone through their archives and sighted reams of information to create brand new supplements to go with the release.
The movie itself will be presented in a 16×9 enhanced widescreen transfer in the movie's original 2.20:1 aspect ratio. The supplements found on a separate disc will contain a new Documentary called "Cleopatra: The Film That Changed Hollywood." It is a title worthy the release, as it took more than 1000 crew members one year to build the most lavish sets Hollywood has ever seen. More than 26.000 costumes were made for the production and in order to help finance the movie, Fox sold off nearly 300 acres of its Los Angeles back lot… today known as Century City. What's even more impressive is that taking inflation rates into consideration, "Cleopatra" still ranks as the movie with the biggest budget in motion picture history with over $250 million in today's dollars!
The release will also contain the original "Making Of" Featurette called "The Fourth Star Of Cleopatra" as well as Archival Footage from the New York and Hollywood premieres. Combined with Commentary Tracks and other extras that have yet to be announced, this film is a DVD that simply no one can afford to miss! All in all, the DVD will feature more than 7 hours of extra features!
Look out for the three disc Special Edition of "Cleopatra" when it hits a store near you on April 3 at a suggested retail price of only $26.98!