MGM brings us The delightful 'King Of Hearts' in April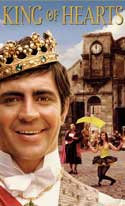 As part of the March/April blitz that seems to be coming from several of the major studios, MGM has announced that they will be releasing the delightful French film King of Hearts (1967).
Anyone who frequented cult film theaters in the 70s will probably remember the first time they saw this wonderful comedy/drama. It's a love story that centers around the absurdities of war, and it became one of the longest running films in U.S. history. An ornithologist mistaken for an explosives expert is sent alone into a small French town during WWI to investigate a report from the resistance about a bomb which the departing Germans have set to blow up a weapons cache. He arrives to find a very eccentric group of townspeople who believe that he is the 'King of Hearts'. To make matters worse, he gets caught up in their outrageous antics and finds himself falling in love with a beautiful young woman.
Directed by Philippe de Broca, the movie stars Alan Bates, Jean-Claude Brialy, Gevevieve Bujold, Micheline Presle, and the great Michel Serrault (from 'La Cage Au Folles').
The disc will have a widescreen transfer, letterboxed at 2.35:1. Audio is Dolby Digital Mono in both English and French (oh, please watch the film in its original language…), with subtitles in English, Spanish, and French. The only included extra is the film's theatrical trailer.
'King Of Hearts' will be available on April 10th, at the suggested retail price of $19.98. Enjoy….