Marengo Films releases some classic double features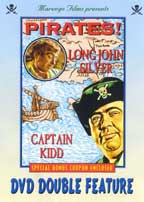 Here's something that's worth a look for fans of quality nostalgia. Marengo Films, courtesy of Koch International, is releasing a series of DVDs that could be a lot of fun. These discs are all about the films and nothing more…there are no extras…BUT…at a suggested retail price of $14.98 (and most of these are double features) who cares about 'film highlights' (a favorite of ours as constant readers are all too well aware).
The company is comprised of film buffs who want to make available some terrific old films to a wider audience. All of the discs have been digitally restored…both audio and video. All of these movies are in their original Full Frame ratios, and Mono sound. Though not remixed in Dolby, the company points out that they have taken pains to clean up and enhance the sound on these prints. So, while we can't speak for any of these discs yet (perhaps we'll have an upcoming review of one), they certainly appear to be worth a look.
Here's a list of upcoming discs:
Pirates Double Feature: Long John Silver (1955, Color) A swashbuckling adventure for all ages as the infamous pirate, Long John Silver, hacks, slashes and cleaves his way to buried treasure.
Captain Kidd (1945 B&W) Follow the adventures of Captain Kidd, played by Charles Laughton, as he tricks King William III into giving him royal orders then searches the high seas for treasure.
Cary Grant Double Feature: His Girl Friday (1940 B&W) A newspaper editor (Cary Grant) tries to keep his star reporter (Rosalind Russell) from leaving the paper before the execution of a convicted murderer.
Penny Serenade (1941 B&W) A couple (Cary Grant and Irene Dunne) elects to adopt after the death of their unborn child. Dunne contemplates divorce, recollecting the joys and griefs of her marriage. The film earned Grant a nomination for Best Actor.
John Wayne Double Feature: Angel and the Badman (1947 B&W) A notorious gunslinger is wounded in a shootout and nursed back to health by a Quaker family. The daughter's love convinces him to reform but not before he finds the man who killed his father.
Blue Steel (1934 B&W) An undercover government agent tries to save a town from being run off their land by a bandit who knows the town is situated on a gold mine.
Errol Flynn/Randolph Scott Double Feature: Santa Fe Trail (1940 B&W) This film stars Errol Flynn and Olivia DeHavilland in a pre-civil war historical battle for 'Bloody Kansas'. Ronald Reagan co-stars as Flynn's rival, George Custer.
Abilene Town (1946 B&W) A dutiful sheriff, played by Randolph Scott, finds himself in the middle of a war between cattlemen and homesteaders in Kansas.
Gary Cooper Double Feature: Meet John Doe (1941 B&W) An American classic. An unemployed man is selected to represent the 'typical American' because of his honesty. Unfortunately, he finds that he is being used by corrupt politicians. Barbara Stanwyck plays a newspaperwoman with whom Cooper falls in love.
A Farewell To Arms (1932 B&W) Based on the novel by Ernest Hemingway. An American ambulance driver falls in love with his nurse in WWI Italy. The fateful ending is one of the most moving in cinematic history.
Swashbucklers Double Feature: Cyrano de Bergerac (1950 B&W) The classic story of Cyrano, the tragic wit renowned for his nose and unrequited love for the beautiful Roxanne. Jose Ferrer won an Academy Award for his portrayal of the title role.
Captain Scarlett (1953 Color) Captain Scarlett saves a princess from an evil count and saves the country from the persecution of the Duke of Corlais. Stars Richard Greene and Leonora Amar.
Bob Hope Double Feature: Road to Bali (1952 Color) Playing a team of vaudeville performers, Bob Hope and Bing Crosby, compete for Dorothy Lamour, pursuing her to the South Seas island of Bali, where they must contend with all sorts of jungle dangers, like cannibalistic natives.
My Favorite Brunette (1947 B&W) Bob Hope plays a photographer working in the same office building as Sam McLeod, the great detective. When McLoud goes out of town on a trip, Bob is mistaken for the detective and mixed up in a mystery.
The Legend of the Lone Ranger (B&W, plus one color episode from the TV series.)
The Lone Ranger was created for radio in 1933 by George W. Trendle. Starring Clayton Moore as the title character and Jay Silverheels as his faithful companion, Tonto, The Lone Ranger went on to become one of the most popular westerns in history.
All of the above discs are scheduled to be released on March 27th, with the suggested retail price of $14.98.