Laugh along with the geriatric antics of 'The Crew'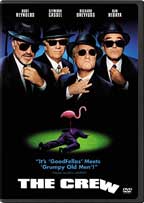 Touchstone Pictures by way of Buena Vista Home Entertainment is preparing the DVD of last year's comedy about aging gangsters, The Crew, for release this March.
Bobby, 'Bats,' 'The Brick' and 'The Mouth' used to be big 'hits' way back when mobster days were cool. Years later and well into retirement, The Crew suddenly faces eviction from the Raj Mahal, their retirement home in sunny Miami Beach, Florida. Desperate to cling on to the only thing worth living for, the old crew pulls one last hit in order to save their home. Unbeknownst to them, the so-called hit sets off a wacky chain of events that results in hilarious adventures beyond anyone's control, especially not The Crew's.
Directed by Michael Dinner, the film stars some fun actors: Richard Dreyfuss, Burt Reynolds, Dan Hedaya, Seymour Cassel, Jennifer Tilly, and Carrie-Anne Moss.
The disc features an anamorphic widescreen transfer in the film's original aspect ratio or 1.85:1, and a Dolby Digital 5.1 Surround soundtrack. Extras include production featurette, cast biographies, something called 'Action Overload' (???), and the film's theatrical trailer.
'The Crew' will hit the streets on March 13th with a suggested retail price of $32.99.