Jackie Chan brings us the "Legend Of Drunken Master"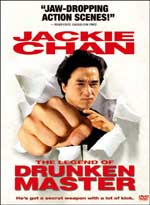 Is anyone else still as amazed by Jackie Chan as I am? You don't have to be a fan of martial arts films to appreciate that a 46 year-old man can still throw his body around as though he didn't have a care in the world. Amazing. Oh, yeah, and now Dimension Studios, courtesy of Buena Vista Home Video are readying the DVD release of Legend of Drunken Master for this March.
Made in 1994 and originally known as 'Drunken Master II' (among other titles), the film saw an American theatrical release in 2000. Returning to the role that made him a star in 1979's 'Drunken Master', Jackie Chan plays Chinese folklore hero Wong Fei Hong, who discovers a smuggling ring, orchestrated by the British Government, to transport valuable Chinese artifacts out of the country. Hong must use his unique style of martial arts, 'Drunken Boxing,' to fight the conspirators and salvage the Chinese treasures before it's too late. The more Hong drinks, the more agile he becomes and is able to fend off numerous attacks and perform incredible stunts. Aided by his hilarious stepmother and friends, Hong faces the challenge of protecting valuable Chinese history and saving his family honor.
The disc comes with an anamorphic widescreen transfer of the film, letterboxed at 2.35:1. Audio is Dolby Digital 5.1 and is listed only as 'English Dubbed'. No mention of Chinese language yet, which would be unfortunate. Extras include the Jackie Chan essential outtakes, a TV spot and trailer, and an interview with the man himself.
'Legend of Drunken Master' will be available on March 13th for the suggested retail price of $29.99.