Is Judi Dench the 'Last Of The Blonde Bombshells'?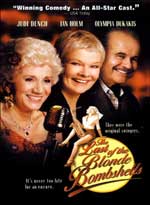 HBO Pictures is getting ready to release the DVD of their popular feature Last Of The Blonde Bombshells this February.
As a teenager in the war years, Elizabeth was a sax-player with the Blonde Bombshells until a scandal blew the band apart. Now, five decades later, she sets off in search of the survivors with a dream of recreating their former glories in this hilarious comedy.
Directed by Gillies MacKinnon, this film boasts a killer cast: Ian Holm, Judi Dench, Olympia Dukakis, Leslie Caron, Cleo Laine, June Whitfield, and Billie Whitelaw.
HBO is preparing an anamorphic widescreen transfer for this disc, with a Dolby Digital 2-channel Surround audio track in English; a Spanish track is included in Dolby Mono. Subtitles are available in English, French, and Spanish. Extras include cast and crew bios and talent filmographies.
'Last Of The Blonde Bombshells' will be released on February 27th. The suggested retail price is $19.98. Hey, Ian Holm and Judi Dench star in this film…what else do you need to recommend it?