Here are the full details on 'Bedazzled'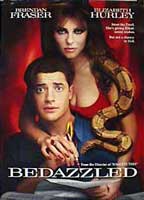 In the past couple of days we've reported that Twentieth Century Fox Home Entertainment's upcoming DVD of Bedazzled is going to be the first NUON enhanced DVD movie to hit the market. As promised, here are the full details on this release:
Essentially a remake of the Stanley Donen film of the same name from 1967, the new version, directed by Harold Ramis, stars Brendan Fraser as Elliot Richards, a hapless, love-starved computer technician who falls prey to the very sexy Elizabeth Hurley as the Princess of Darkness. The knucklehead agrees to sell her his soul for seven 'fabulous' wishes. Of course, the devil has more than a few tricks up her sleeve. And of course, Elliot soon finds himself in hell on earth (in a humorous way, naturally).
The disc contains an anarmorphic widescreen transfer of the movie, letterboxed at 2.35:1. Audio is Dolby Digital 5.1 Surround in English, as well as Dolby 2-channel Surround in both English and French. Subtitles are included in English, and Spanish. Extras include 2 audio commentaries by Elizabeth Hurley, director Harold Ramis, and producer Trevor Albert, a 'making of' featurette, 15-minutes of deleted footage, including the outrageous 'Rock Star Fantasy' sequence; a trailer and 3 TV spots, production stills; scoring session, and a costume vignette.
In addition, NUON technology has been embedded into the DVD software in order to provide a greater interactive experience for consumers. 'Bedazzled' is, however, still a standard DVD that will play on any DVD player. The NUON content can be accessed by using any NUON compatible hardware.
Extra features on the 'Bedazzled' DVD made possible by NUON include:
—Dynamic book marking of scenes from the film along thematic lines. Examples include digest versions of the commentaries by director Harold Ramis and Hurley, character studies of the supporting actors and a fashion show of Hurley's wardrobe.
—Pre-selected close-up zooms of interesting scene elements combined with background text highlighting the story behind the scenes.
—An enhanced gallery of concept art and set design stills displayed in contrast with their counterpart clips in the film.
—A dynamic chapter select feature that displays a full motion video thumbnail view of a chapter combined with a written scene description so users can easily determine where they want to enter the movie.
The 'Bedazzled' DVD will be available March 13th at a suggested retail price of $26.98.