Criterion to release 'Mona Lisa' and 'Coup de Torchon'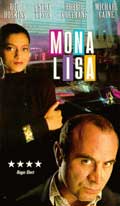 The good folks at Criterion Collection have announced two more films to be added to their eclectic collection of DVDs: Neil Jordan's Mona Lisa (1986), and Bertrand Tervanier's Coup de Torchon (1981).
Coming in a director approved Special Edition, 'Mona Lisa' is writer-director Neil Jordan's breakthrough film, a brilliant, noir-infused love story in which Bob Hoskins plays George, a small-time loser employed as a chauffeur to an enigmatic, high-class call girl (Cathy Tyson). His fascination with her leads him on a dangerous quest through the sordid underbelly of London, where love is a weakness to be exploited and betrayed.
The disc comes with an anamorphic widescreen transfer, letterboxed at 1.77:1. Sound is Dolby Digital Mono. Extras include an audio commentary from Jordan and star Bob Hoskins, and the film's original trailer.
Directed by Bertrand Tavernier, "Coup De Torchon" is the story of Lucien Cordier, a weak-willed cop in a French African colony in 1938, who one day turns into an exterminating angel. Controversial for its dark, violent humor, the film stars Philippe Noiret, Isabelle Huppert, Jean-Pierre Marielle, and Stéphane Audran.
This disc will feature a remastered anamorphic widescreen transfer, with Dolby Digital Mono audio in French. English subtitles are included. Extras include an exclusive interview with Tavernier, and the film's theatrical trailer.
Both of these discs will be available on March 13th. 'Mona Lisa' retails for $39.95, "Coup De Torchon" will go for $29.95.