Columbia TriStar brings Krull to DVD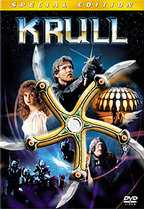 Columbia TriStar Home Video bows Peter Yates' atmospheric fantasy film Krull in April. Scheduled for release on April 3, "Krull" will come as a Special Edition with a few exciting bonus features.
Journey into a mystical time and place that belongs to neither the past nor the present, where extraordinary creatures of myth work their incredible magic, and where a horrific, omnipotent Beast is the ruler. This is the planet of Krull!
Prince Colwyn sets out on a daring mission to rescue his young bride who is held captive by the Beast. But slayers and alien beings under the command of the Beast oppose him at every turn. Colwyn must first reach the faraway cavern to retrieve the legendary Glaive, a flying blade capable of phenomenal powers.
"Krull" will be presented in an anamorphic widescreen version on this DVD with a 5.1 channel Dolby Digital audio track, as well as English, French, Spanish and Portuguese Dolby Surround tracks. The release will also feature an audio commentary track by director Peter Yates, actors Ken Marshall, Lysette Anthony and editor Ray Lovejoy.
Other extras on this release will include a behind-the-scenes commentary, a Marvel Comic Video Adaptation, an original Featurette, four separate Photo Galleries, Trailers, Production Notes and Talent Files.
Are you ready to take on the Beast? Brace yourself on April 3 when this spectacular fantasy adventure comes finally to DVD.