Barry Levinson's 'Avalon' immigrates to DVD this March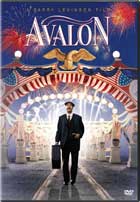 Word has come to us that Columbia Tristar Home Video is getting ready to release the family saga Avalon (1990) to DVD in March.
Part of writer/director Barry Levinson's 'Baltimore' movies, 'Avalon' is the story of several generations of a Jewish family that immigrates to America at the beginning of the century, lured by the promise of a better future.
Full of Levinson's brand of excellent ensemble work, the film was nominated for 4 Academy Awards, including Best Screenplay, Cinematography, Costume Design, and Music. The cast includes Aidan Quinn, Joan Plowright, Elizabeth Perkins, Armin Mueller-Stahl, Kevin Pollak, Eve Gordon, and Elijah Wood.
The disc will come with an anamorphic widescreen transfer, letterboxed at the film's original aspect ratio of 1.85:1. Audio is a Dolby Digital 2-channel Surround mix, with subtitles available in Portuguese, English, Spanish, French, Korean, Chinese-Traditional, and Thai. Extras include talent files and several trailers.
'Avalon' is due for the shelves on March 13th. The suggested retail price is $24.95.