Barbra Streisand does all she can, For Pete's Sake, coming to DVD this April.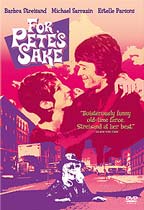 For Pete's Sake, starring Barbra Streisand and directed by Academy Award-Nominee Peter Yates, is scheduled for release by Columbia TriStar Home Entertainment on April 3.
"For Pete's Sake" is the comedic story of a young woman (Barbra Streisand)who will do anything to finance her husband's (Michael Sarrazin)dreams.
The DVD will be available in both Full Screen and anamorphic Widescreen formats with alternate English and French audio tracks in Dolby Digital Mono. Subtitles will be in English, French, Spanish, Portuguese, Chinese, Korean and Thai. Columbia TriStar Home Entertainment will also include talent files and trailers (including trailers for other Barbra Streisand films such as "The Mirror Has Two Faces" and "The Prince of Tides").
"For Pete's Sake" will be part of Columbia TriStar Home Entertainment's 2001 Hollywood VIP Pass Promotion and carry a suggested price of $19.95.