Arnold is back…and forth…in 'The 6th Day'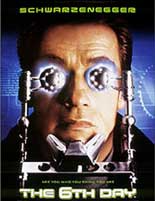 A big, well-muscled man with an accent, whose identity has been stolen in the future…sound familiar? It's just another day in the life of Arnold Schwarzenegger. And now you too can relive someone else's life when Columbia TriStar Home Video releases the DVD of The 6th Day this March.
This Arnold vehicle has the big guy discovering that he has been cloned for nefarious purposes, and now he must discover the truth about the world around him and, ultimately, about himself.
Directed by Roger Spotiswoode ('Tomorrow Never Dies'), the film stars, obviously, Arnold Schwarzenegger, as well as Michael Rappaport, Tony Goldwyn, Wendy Crewson and…reason enough to watch…Robert Duvall.
The disc will include an anamorphic widescreen transfer, letterboxed at 2.35:1. Audio will include both Dolby Digital 5.1 Surround and Dolby 2-channel soundtracks. The scheduled extras include Showtime special, 'The Future Is Coming', ten(!!!) featurettes, isolated music score (with commentary by composer Trevor Rabin), storyboard comparison sequence, animatics segment, RePet infomercial & TV spots, production notes, cast & crew bios and theatrical trailers.
'The 6th Day' is scheduled for release on March 13th, with a suggested retail price of $27.95.