Another loss for audiences: Ray Walston is dead at age 86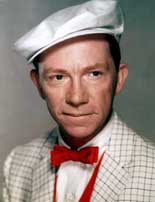 Tony and Emmy-award winning actor Ray Walston, who starred on stage and screen as the devil in 'Damn Yankees' and was famed for his TV role as the extraterrestrial Uncle Martin in 'My Favorite Martian,' has died at age 86, his agent says.
Walston, who specialized in playing crusty and canny characters, including the judge on the acclaimed series, 'Picket Fences,' died at his home in Beverly Hills after a short illness, agent Harry Gold said Tuesday.
His last screen appearance was in the Oct. 15 season premiere of the CBS hit show 'Touched By An Angel.' He played a wealthy entrepreneur who cuts his son (Richard Chamberlain) off from the family fortune to teach him there are more valuable things in life than money.
Walston, who died New Year's Day, won a Tony Award for best actor in a musical for his Broadway performance as Mr. Applegate, the Devil, in the 1956 hit 'Damn Yankees,' about an aging baseball fan who sells his soul to help his hapless team, the Washington Senators, win the American League pennant from the unbeatable Yankees of the 1950s.
Both Walton and actress-dancer Gwen Verdon, who played the seductress Lola ('Whatever Lola Wants, Lola Gets'), recreated their roles for the 1958 film adaptation of the musical. Verdon died last year.
In a lengthy film career that began with the comedy 'Kiss Them For Me,' with Cary Grant and Jayne Mansfield, Walston played mostly supporting parts, often as curmudgeonly characters. One of his best film performances was as the philandering insurance executive in Billy Wilder's 1960 romantic comedy, 'The Apartment' starring Jack Lemmon, Shirley MacLaine and Fred MacMurray.
Much later in his career, he played the strident social studies teacher Mr. Hand in the 1982 comedy 'Fast Times at Ridgemont High,' a role he reprised for the short-lived TV spin-off series 'Fast Times.'
But Walston is perhaps most widely recognized for the 1960s television series that made him a household name, 'My Favorite Martian,' which ran for three years on CBS (1963-1966). He starred as a Martian who crash lands on Earth and moves in with newspaper reporter Tim O'Hara (Bill Bixby), who keeps the true identity of his visitor a secret by passing him off as his Uncle Martin. Although Uncle Martin looked human and spoke English, he had such Martian traits as retractable antennae on the back of his head and the ability to make himself invisible, read minds and move objects by pointing at them.
Three decades later, Walston played a small but nostalgic role in a 1999 movie version of the series with Christopher Lloyd starring as Uncle Martin.
Walston's career enjoyed a revival when he returned to series television in the early 1990s in the acclaimed CBS drama 'Picket Fences,' playing a cranky judge with a heart of gold. The series earned him two Emmys for best supporting actor.
He is survived by his wife Ruth, a daughter and two grandchildren.