Anchor Bay releases Creepshow 2 in April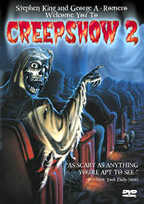 Anchor Bay Entertainment has just added director Michael Gornick's Creepshow 2 to their release line-up for release on April 10.
Join our old friend, the rotting Creep himself, as he introduces this Stephen King horror anthology which presents gruesome looks at three tales of horror: a hit-and-run driver in "The Hitchhiker", a wooden Indian in "Ol' Chief Wooden Head", and four friends whose vacation on a secluded lake turns into a nightmare in "The Raft". "Creepshow 2" is a deliciously wicked roller coaster ride that will plunge you into the heart of darkness and to the very brink of madness.
The DVD will feature an anamorphic widescreen transfer of this horror anthology and will be complemented by the original Dolby Digital mono audio track. The movie's Theatrical Trailer, a Photo Gallery and a Theatrical Poster Replica will also be part of this release, starring Lois Chiles, George Kennedy, Dorothy Lamour and Tom Savini.
Get in line and reserve your seat in this Creepshow for only $24.98 when it comes to town on April 10.