102 Dalmatians will invade your living room in April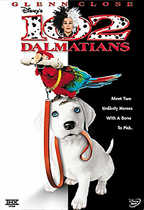 Buena Vista Home Entertainment unleashes a large number of pets on April 3. 102 Dalmatians will be making its DVD debut on that day in a DVD release that comes with some exciting bonus features.
Walt Disney Pictures once again "spot-lights" comedy, fantasy, and fun-filled adventure in the highly anticipated sequel to the 1996 box office blockbuster "101 Dalmatians." In this all-new tale, Cruella De Vil (Glenn Close) is released from prison for good behavior, vowing that she will have nothing to do with fur ever again. She cannot keep this promise, however, and is soon plotting another "fur-ocious" scheme to get her ultimate Dalmatian coat. The fun and adventure shift into high gear as Cruella and the dogs romp through Paris in Walt Disney Pictures' live-action comedy.
The DVD will feature a 16×9 enhanced widescreen presentation of the movie as well as a pan & scan transfer and also contain a 5.1 channel Dolby Digital audio track ,as well as a 5.1 channel DTS audio track. But wait until you hear about the supplements. The disc will feature a running-length audio commentary track by director Kevin Lima and animal coordinator Gary Gero. "Creating Cruella," "Animal Actors," and "Designing Dalmatians" are three featurettes that will also be included on the release to give viewers a better understanding of the production of the movie. Deleted scenes and a music video called "Puppy Action Overload" is also included. It features puppy auditions, outtakes, and scenes from the film for your entertainment. As a DVD-ROM supplement, the release will contain the "Cruella Costume Designer" program, a "Visual Effects 102" and "Dalmatians 101" – The care and feeding of a Dalmatian, narrated by Waddlesworth.
If all this sounds exciting to you, make sure to look out for "102 Dalmatians" on April 3, when it arrives at retail stores for $29.99.