You'll scream last summer when 'Urban Legend: Final Cut' comes to DVD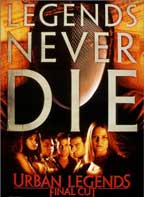 The 'all-too-aware-of-the-formula-they're-using-and-simultaneously-deriding' cycle of horror films we've been witnessing seems to be abating somewhat, having themselves been deconstructed by such overt spoofs as 'Scary Movie'. The trend did continue this year, though, with varied success, and now Columbia/TriStar is preparing the DVD of the latest in a potentially interesting series with Urban Legend: Final Cut, due this February.
At the renowned film school Alpine University, one senior student is awarded the esteemed Hitchcock Award for the best thesis film each year. A down-to-earth documentary film student, Amy Mayfield wants to take a crack at the award. During a chance meeting with the new campus security guard, Reese, Amy is inspired by the story of an urban legend at Reese's former place of employment, Pendleton University. Deciding to break away from documentaries, Amy's thesis film will be a work of fiction about urban legends. After writing the script, storyboarding the shots and casting her actors, Amy and her crew prepare to roll camera. When Amy's film crew starts falling prey to fatal 'accidents,' she questions where fiction ends and truth begins. When all the dots start to connect back to her, she realizes she must unmask the killer before she becomes an urban legend herself.
Directed by John Ottman, the film stars Jennifer Morrison, Eva Mendes, Anson Mount, Jessica Cauffie, Joseph Lawrence, and Anthony Anderson.
The disc will come with an anamorphic transfer, letterboxed at 2.35:1, as well as a Pan & Scan version. Sound is Dolby Digital 5.1, with an optional French language track available. Subtitles are available in French. At this point there appear to be no extras included on the disc.
A 2-disc set featuring the above title as well as the previously released DVD of the original Urban Legend will also be available. Both discs will see release on February 13th. 'Urban Legend: Final Cut' will have a suggested retail price of $24.95. The 2-disc set will be $44.95.