Will fans 'Get Carter?' Warners hopes so…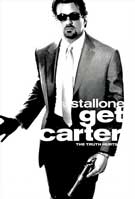 Fresh off a very disappointing turn at the theatrical box office, Warner Home Video is hoping the find a second life and audience for the Sylvester Stallone remake of Get Carter, coming to DVD this February.
In this remake of the 1971 film starring Michael Caine, Stallone stars as a Las Vegas mob enforcer out to revenge his brother's murder. "It's not his turf. But it is his war." Heh, heh, heh…
Directed by Stephen T. Kay, the movie stars Sylvester Stallone, Miranda Richardson, Rachael Leigh Cook, Michael Caine, Alan Cumming, Mickey Rourke, and Gretchen Mol.
The disc comes with an anamorphic widescreen transfer, letterboxed at the film's original aspect ratio of 2.35:1. Audio is Dolby Digital 5.1 Surround. Extras include deleted scenes, an audio commentary, filmographies, and the film's theatrical trailer.
Audiences will be able to 'Get Carter' on February 13th, for the smartly priced suggested retail of $19.98.