Who will watch 'The Watcher'?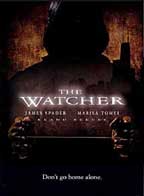 We've just received word that Universal Home Video is getting ready to release the thriller The Watcher to DVD this February.
A detective tracking a serial killer gives up all hope of solving the crimes and moves to another city. After he's settled in, his worst fears are realized: the serial killer has resurrected and begins sending him new pictures of new victims. One of the victims is the detective's psychiatrist. A game of cat and mouse ensues, with the woman's life on the line.
Directed by Joe Charbanic and Jeff Jensen, the movies stars Keanu Reeves, James Spader, Marisa Tomei, and Ernie Hudson.
The disc will contain an anamorphic widescreen transfer, letterboxed at 1.85:1. Audio will a Dolby Digital 5.1 soundtrack. Extras include cast/crew bios, production notes, the film's theatrical trailer, and DVD-ROM features.
'The Watcher' is due in stores on February 20th. The suggested retail price is $26.98.