'Whipped' is back on schedule again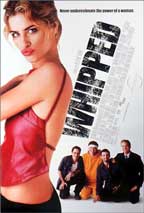 The previously postponed release of Whipped from Columbia TriStar Home Video is back on schedule again. The new release date is December 6th.
'Whipped' is a provocative comedy in which the highs and lows of the dating game are fully exposed. A group of buddies from college meet every Sunday at the local diner to discuss their favorite sport – scoring with women. At one point all three single guys unknowingly go after the same 'perfect' woman, Mia (Amanda Peet), and they begin to question their skirt-chasing ways. Who will win the morning round table bragging rights?
Directed by Peter M. Cohen, the movie stars Amanda Peet (The Whole Nine Yards), Brian Van Holt (HBO's Sex and the City) and Zorie Barber (Desperation Highway).
The disc will contain an enhanced widescreen transfer as well as a full screen version, with both a Dolby Digital 5.1 and Dolby 2-Channel soundtracks. Extras include an audio commentary by the director, talent files, and several trailers.
The suggested retail price is $29.95.