What were James Cameron & John Sayles up to in 1980?…'Battle Beyond the Stars'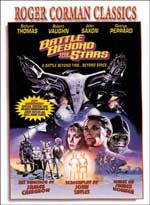 It seems that so many of the best and brightest filmmakers worked for Roger Corman at one time or another, doesn't it? Back in 1980, John Sayles wrote the script for and James Cameron worked both Art Direction and Visual Effects for a now cult film favorite called Battle Beyond the Stars, and New Concorde is preparing the release the film on DVD this coming February under the Roger Corman Classics label.
The story might seem familiar on several levels: seven mercenaries are recruited from throughout the galaxy, to save a peaceful planet from the threat of an evil tyrant, bent on dominating and enslaving the entire universe; Sort of a 'Star Wars' meets 'The Magnificent Seven'.
Directed by Jimmy T. Murakami, the film stars Richard Thomas, Julia Duffy, Robert Vaughn, John Saxon, George Peppard, and Sybil Danning.
The disc will contain a widescreen print, letterboxed at 1.85:1. Sound is a remixed Dolby Digital 5.1 Surround audio track. Extras include audio commentary, a photo gallery, and cast and crew bios.
'Battle Beyond the Stars' is scheduled for release on February 6th. The suggested retail price will be $19.98.