We have details about the reissue of 'Dr. Strangelove'…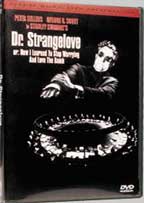 As we reported last week, Columbia TriStar Home Video is planning to reissue Stanley Kubrick's masterpiece of Cold War black comedy, Dr. Strangelove, or How I Learned To Stop Worrying and Love the Bomb. Here are the details that we've just received:
The disc will contain digitally mastered audio and video. The transfer is essentially 'widescreen' though not anamorphic, due to the fact that Kubrick used different aspect ratios throughout the movie. Sound is Dolby Digital Mono, with optional French, Spanish and Portuguese language tracks. Subtitles are available in English, French, Spanish, Portuguese, Chinese, Korean and Thai.
The bonus features look like a lot of fun: a new featurette: 'The Art of Stanley Kubrick: From Short Films to Strangelove', a new documentary: 'Inside the Making of Dr. Strangelove', the original Split-Screen interview with Peter Sellers and George C. Scott, original advertising gallery, and talent files of Stanley Kubrick, Peter Sellers, George C. Scott, Sterling Hayden, Keenan Wynn, Slim Pickens and James Earl Jones.
The disc will be released on February 27th, with a suggested retail price of $29.95.
Now, if only we could see that footage of the infamous 'pie fight' ending that was discarded…!