Warners announces several classic comedies for release in April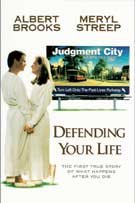 Warner Home Video has just announced the April release of several terrific comedies from their extensive catalog.
The list includes George Roy Hill's The World According to Garp, Hal Ashby's Being There (featuring what is surely one of the most perfectly understated performances ever captured on film, by the sublimely talented Peter Sellers), the Rock 'n Roll rebellion of Empire Records, and the Martin Lawrence 'concert' film, You So Crazy.
Perhaps the most exciting titles, however, are the two Albert Brooks films: Lost in America, and Defending Your Life. If you've never seen either of these films you owe it to yourself to at least give them a rent when they're released. Delightful, side-splitting stuff…
All discs will feature bios and trailers. All, with the exception of 'You So Crazy' will be presented in anamorphic widescreen transfers with English language tracks and English, French, Spanish and Portuguese subtitles. Audio for each has not yet been announced.
All of these films will be available on April 3rd. The suggested retail price will be $19.98.