Wackiness ensues when Jamie Foxx is used as "Bait"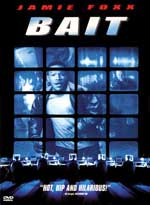 High speed chases, hi-tech gadgetry, and high-speed quips. It's all in a day with Jamie Foxx in the new comedy Bait, coming to DVD from Warner Home Video this January.
In this fast-moving movie, the hip and popular star of 'The Jamie Foxx Show' and 'Any Given Sunday' hits the mark as an unsuccessful small-time crook who becomes the unsuspecting 'bait' in the Fed's attempt to catch a murderous high-tech thief.
Directed by Antoine Fuqua, the movie stars Jamie Foxx, David Paymer, Doug Hutchison, Robert Pastorelli, David Morse, and Kimberly Elise.
The disc will contain an anamorphic widescreen transfer of the film, letterboxed at 2.35:1. Audio is Dolby Digital 5.1 Surround. Subtitles are available in English and French. Bonus features include an audio commentary with Jamie Foxx, a filmography, the film's trailer, and yet another section of 'Film Highlights', which is a feature we have yet to figure out a good use for.
'Bait' will be released on January 23rd. It will have a suggested retail price of $19.98.