The original 'Nightwatch' is coming to DVD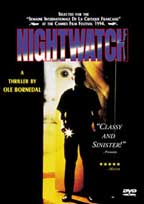 The busy folks at Anchor Bay Entertainment are preparing the DVD for Ole Bornedal's original version of Nightwatch (Nattevatgen) (1994). The director remade his own film in 1998 for an American audience, but this version, universally considered to be the superior film, has been a bit harder to find. It was selected for the 'Semaine Internationale De La Critique Francaise' at the Cannes Film Festival 1994.
The plot is simple but fertile ground for a thriller: Martin has a good life filled with great friends. But when he takes a part-time job as the night watchman in a hospital morgue, he finds himself haunted by grisly visions and deviant desires. As his nights grow ever more bizarre, somebody begins brutally murdering local prostitutes and Martin becomes the primes suspect. Has Martin's job truly driven him crazy, or will one final and shocking twist end the nightwatch forever?
The cast is a veritable who's who of fine actors with unpronounceable names: Nikolaj Coster Waldau, Lotte Andersen, Ulf Pilgaard, Rikke Louise Andersson, Kim Bodnia, and Sofie Grabol.
Anchor Bay is including an anamorphic widescreen transfer of the movie, with a Dolby Digital 5.1 Surround soundtrack in the film's original Danish language. Extras include an audio commentary by the director, the theatrical trailer, and a 5 x 7 inch theatrical poster replica.
'Nightwatch' is scheduled for release on February 27th with a suggested retail price of $29.98.