The King re-edited: 'Elvis: That's the Way It Is (Special Edition)'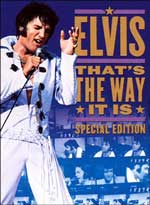 Warner Home Video has announced the release of the DVD of Elvis: That's the Way It Is–Special Edition, featuring newly remastered and remixed picture and sound.
The film documents Presley at his peak during the celebrity-attended August 1970 Las Vegas concert series and reveals a seldom-seen personal side of the King of Rock "n" Roll. Rare, behind-the-scenes footage shows Elvis interacting with the TCB Band and his back-up singers, the Sweet Inspirations and The Imperials, as well as his off-stage antics.
Produced by award-winning filmmaker Rick Schmidlin ('Touch of Evil,' 'Greed,' 'Doors: Live at the Hollywood Bowl') and his team, the special edition includes never-before-seen footage including 10 musical numbers, and Elvis" off-stage antics. Schmidlin conducted a five-month search for all existing film negatives, work prints and corresponding audio masters, producing up to four additional hours of usable footage, some of which was culled from individual scraps as short as a few seconds. There are many sequences of entirely new material, comprising roughly 40% of 'Elvis: That's the Way It Is–Special Edition,' which capture with greater intimacy Elvis" creative process and stage persona. The entire film, including performances retained from the original version, has been re-edited, with virtually every shot reflecting some change in length and rhythm to give it a more contemporary feel.
The recent discovery of 50,000 feet of original film negative shot by six cameramen who were granted unlimited access during the span of rehearsals and performances, and the original corresponding 16-track audio masters, provided the opportunity to re-cut the film. 'Elvis: That's the Way It Is–Special Edition' represents the first time a film has been completely re-edited from start to finish using only original elements.
The disc comes with a widescreen transfer, and a newly mixed Dolby Digital 5.1 Surround audio track. A Dolby Digital 2-channel track is also included. Extras include a trailer and 'additional footage', though it's not clear whether they mean the new footage incorporated into the film.
'Elvis: That's the Way It Is (Special Edition)' will be released on January 16th, with a suggested retail price of $19.98.
While the inclusion of new footage and a 5.1 soundtrack is certainly noteworthy, the phrase 'more contemporary feel' has us a bit nervous. We'll see…