The highly anticipated 'Ben-Hur' makes a grand appearance on DVD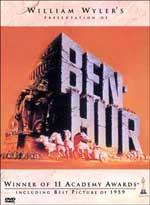 One of the biggest movies of all time, in every sense of the word, will finally make its long-awaited appearance on DVD when Warner Home Video releases Ben-Hur (1959) this March.
Winner of 11 Academy Awards, Ben-Hur is the story of a Jewish nobleman who is enslaved but survives to triumph over his Roman tormentors in one of the greatest scenes ever filmed: the incredible chariot race.
Directed by William (Wild Bill) Wyler, the cast of thousands includes Charlton Heston, Jack Hawkins, Haya Harareet, Stephen Boyd, Hugh Griffith, Martha Scott, Cathy O'Donnell, Sam Jaffe, and Finlay Currie.
Warners has created a new digital transfer for this epic film, giving it to us in anamorphic widescreen, letterboxed at 2.76:1. Audio is a newly mixed Dolby Digital 5.1 Surround soundtrack, with a French 5.1 track available as well. Subtitles are available in English, French, Portuguese, and Spanish. Bonus features include additional footage and behind-the-scenes footage, an audio commentary with Charlton Heston, screen tests, the documentary 'Ben-Hur: The Making Of An Epic', cast highlights, and the film's theatrical trailer.
'Ben-Hur' is scheduled for release on March 13th, with a suggested retail price of $24.98.