'The Five Senses' come alive on DVD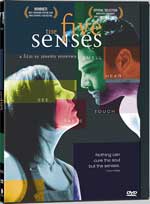 New Line Home Video has announced the DVD release of the poignant The Five Senses for this January.
The film takes place in Toronto over an intense three-day period in which a young child has disappeared, galvanizing the public and the media's attention. Against this backdrop, five characters that live or work in the same building explore each of the primary senses in very personal ways. 'The Five Senses' reminds us that we are only connected to the world through senses and human relationships. Winner at the 1999 Toronto Film Festival for Best Canadian Feature Film, the film was also an official selection for the Directors Fortnight at the 1999 Cannes Film Festival.
Written and directed by Jeremy Podeswa, the film stars Mary Louise Parker, Philippe Volter, Gabrielle Rose, and Marco Leonardi.
The DVD features both a widescreen and pan and scan version of the film. Details on sound are sketchy, but we know there will be both English and French language tracks available, as well as French and English subtitles. Extras include the film's theatrical trailer, and DVD-ROM features links to the film's website.
'The Five Senses' will be released on January 23rd with a suggested retail price of $24.98.