The dangers of exposure in public office are explored in 'The Contender'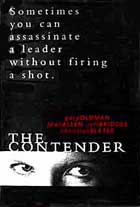 DreamWorks is getting ready to release the political thriller The Contender to DVD this February.
When the Vice President dies in office, a female Senator gets the nomination to replace him. But power comes at a stunning price, and soon information and disinformation about her past surfaces that threatens to derail her confirmation.
This critically acclaimed film was directed by Rod Lurie and boasts an impressive cast that includes Joan Allen, Jeff Bridges, Gary Oldman, William Petersen, Christian Slater, and the excellent Philip Baker Hall, one of the most underrated actors on the planet.
The disc will include an anamorphic widescreen transfer with Dolby Digital 5.1 Surround audio. Extras include an audio commentary, an HBO 'making of' featurette, deleted footage, production notes, cast/crew biographies, and the movie's theatrical trailer.
'The Contender' is scheduled for release on February 27th. The suggested retail price will be $26.99.