Take a trip to 'Wonderland'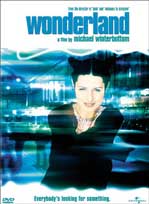 Universal Home Video is preparing the DVD release of a movie that explores the soul-searching of three women as they travel through Wonderland (1999).
Through a series of vignettes, 'Wonderland' focuses on the dreams, conflicts and weekend escapades of three sisters, Debbie, Nadia and Molly. Their quest is universal and eternal: the search for contentment in this world. Molly, full of uncertainty, is due to have her first baby any day. Debbie, with a nine-year-old at home, still spends her nights on the town. Nadia lives alone and is in search of love and companionship. Three women. Three very different lives all beautifully interwoven into a single tapestry of love, pain and pure joy.
Directed by Michael Winterbottom ("Welcome To Sarajevo"), the film stars Gina McKee, Shirley Henderson, Jack Shepherd, Kika Markham, Molly Parker, and Ian Hart.
The disc comes with an anamorphic widescreen transfer of the movie, letterboxed at the film's original aspect ratio of 2.35:1. Audio is Dolby Digital 5.1 Surround, with French subtitles available. Extras include production notes, cast/crew bios, the film's theatrical trailer, and film highlights.
'Wonderland' is scheduled for release on February 20th. It will have a suggested retail price of $24.98.