Support Your Local Sheriff and Gunfighter on DVD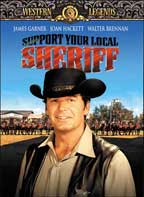 As a part of their new Western Legends series, MGM Home Entertainment is getting ready to release the DVDs of Support Your Local Sheriff (1968) and Support Your Local Gunfighter (1971).
In 'Support Your Local Sheriff', James Garner recalls his 'Maverick' TV character in this rollicking western spoof that has him taking on the job of a frontier town sheriff who must fend off villains and women from every direction. Directed by Burt Kennedy, the cast includes James Garner (if you didn't get that already), Walter Burke, Joan Hackett, Walter Brennan, Harry Morgan, Jack Elam, Henry Jones, Bruce Dern, Willis Bouchey, and Gene Evans.
In 'Support Your Local Gunfighter', James is a thoroughly charming gigolo on the run who not only gets mistaken for a feared gunfighter, but becomes the target of a gun-totin' tomboy (Suzanne Pleshette). This one was also directed by Burt Kennedy and stars Garner, Suzanne Pleshette, Harry Morgan, Joan Blondell, John Dehner, Henry Jones, Dub Taylor, Marie Windsor, and Jack Elam.
Both films will come in an anamorphic transfer, letterboxed at 1.85:1. Sound is Dolby Digital Mono, with optional French and Spanish language tracks. Subtitles are available in French and Spanish. The only extras will be each film's theatrical trailer.
Both discs will be released on March 20th, and will carry the suggested retail price of $19.98.