Oooh, his baby fangs are coming in! 'The Little Vampire' comes to DVD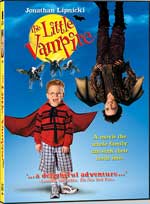 The folks at New Line Home Video have informed us that they're preparing the DVD of The Little Vampire for release this March.
'The Little Vampire' is based on the characters created by Angela Sommer-Bodenburg. This family movie tells the story of an American boy who moves with his family to the sprawling Scottish countryside, where he makes friends with a family of vampires whose lasting wish is to become human.
Directed by Ulrich Edel, the film stars Jonathan Lipnicki of 'Stuart Little' and 'Jerry Maguire' fame, as well as Richard E. Grant, Jim Carter, and Alice Krige.
The DVD includes both widescreen and fullscreen versions of the film, Dolby Digital 5.1 Surround audio as well as 2.0 stereo surround. Extras include the theatrical trailer and a host of DVD-ROM content: a script to screen screenplay feature, which allows users to watch the film and read the script at the same time, a link the original website, and cast and crew filmographies. Also, The DVD contains features to encourage 'kid-interaction', including three animated menu-based games as well as jokes and recipes.
'The Little Vampire' will rise again on March 6th with a suggested retail price of $24.98.