Of swordplay and time portals: 'Highlander: Endgame'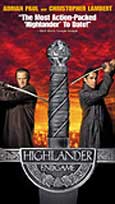 Fans of the successful Highlander series will be happy to hear that Buena Vista Home Entertainment is getting ready to release the DVD of the latest feature in the series: Highlander: Endgame. Just released theatrically on September 1st, this is one heck of a quick turnaround to DVD…
In truth, this should not be considered the 4th entry in the movie series, as this actually ties in to the television show. But fans should be pleased by this action-packed feature. In a final (oh really?) battle against the immortals, Connor and Duncan join forces and confront the powerful Highlander villain and his band of immortals in their last chance to fight against the ultimate evil. (note: that last description should be read with a deep-throated beer-commercial voice for best effect)
Directed by Douglas Aarniokowski, the film stars Christopher Lambert, Adrian Paul, Bruce Payne, and Lisa Barbuscia.
The disc will contain a widescreen transfer, framed at the film's original aspect ratio of 1.85:1 and enhanced for 16×9 televisions. Audio is a Dolby Digital 5.1 Surround soundtrack. No special features have been announced yet.
'Highlander: Endgame' is scheduled for release on February 20th. It will carry a suggested retail price of $32.99.