Now, this DVD collection is "Absolutely Fabulous"!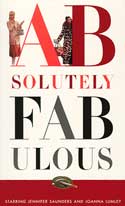 Sweety Dahling, Sweety Dahling, Sweety Dahling! If this demi-sentence excites rather than annoys you, you will be thrilled to hear that BBC Video is getting ready to release Absolutely Fabulous: The Complete Series Volumes 1, 2, and 3; as well as Absolutely Fabulous: The Complete DVD Collection this March.
If you've never seen this British import TV show, 'Absolutely Fabulous' is the continuing adventures of two middle-aged women who refuse to give up their 60s partying lifestyles. Jennifer Saunders, who also wrote and co-created the series, brilliantly portrays Edina Monsoon, a PR executive who is best friends with Patsy (the equally brilliant Joanna Lumley), who has a vague job at a fashion magazine which she rarely needs to show up for. The two women drink, dress twenty years below their age, drink, do drugs, shirk responsibility, and drink. And it is all absolutely hilarious. In fact, many critics have called it among the funniest and best sitcoms ever made.
All of the details aren't yet in on the sets, but it appears that each of the 'Complete Series' Volumes will have 6 episodes, while the 'Complete DVD Collection' will include all 18 episodes plus the 1995 special How to be Absolutely Fabulous, a very funny 'behind the scenes' faux documentary about the series that had such guest stars as Elizabeth Taylor and The Pet Shop Boys. It's not clear yet whether the final full length episode 'The Last Shout' is included in any of the discs.
The transfers, of course, will be in the original 1.33:1 TV ratio, while the sound format has not been announced. Extras include outtakes and a photo gallery. We'll fill in all the other details for you as soon as we get them.
All of the Absolutely Fabulous sets will be released on March 13th. The suggested retail for the individual volumes will be $29.98. The price for the entire collection is $99.98.
Oooohhhh, Stoly dahling, Stoly… !