Long live 'The Original Kings Of Comedy' on DVD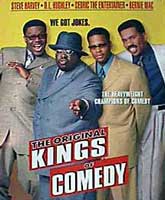 After a very successful run as a live act and a subsequent theatrical run in movie theaters, The Original Kings of Comedy will now attempt to claim their rights to the DVD throne, as Paramount Home Entertainment is preparing a release of their movie this February.
The movie is a documentary filmed in Charlotte, North Carolina during the 'Kings of Comedy' tour, where four stand up comedians, Steve Harvey, D.L. Hughley, Cedric the Entertainer, and Bernie Mac, crack jokes about race, sex, families, and human responses. A tremendous hit with audiences everywhere, director Spike Lee captures the geniuses behind the tour as they bring the house down at The Charlotte Coliseum.
Paramount is giving us an anamorphic widescreen transfer of the film, with both Dolby Digital 5.1 and Dolby 2-channel Surround soundtracks. Extras include an original featurette about the movie and the tour, and music videos.
Paramount is also releasing the direct-to-video movie, The Queens of Comedy on the same day. This disc will also feature an anamorphic widescreen transfer, with a Dolby Digital 5.1 Surround soundtrack, and a featurette. A box set of the Kings and Queens will also be released.
All of these discs are scheduled for release on February 20th. The suggested retail price of the single discs will be $29.99. The price for the box set has yet to be determined.