Here's the scoop on Anchor Bay's "Manhunter"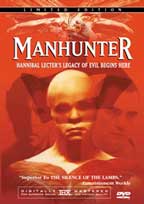 Months ago we told you that the good folks at Anchor Bay Entertainment were planning to release Michael Mann's Manhunter to DVD. Well, we now have the details on the movie that marked the first screen appearance of Hannibal Lecter…
The story comes from Thomas Harris' novel 'Red Dragon', written before 'Silence of the Lambs'. FBI Agent Will Graham (William Petersen) has captured the diabolical Dr. Hannibal Lecter (Brian Cox), nearly losing more than just his mind in the process. But when Graham is called out of retirement to hunt the psychopath known as 'The Tooth Fairy' (Tom Noonan) he must once again confront the horrors of 'Hannibal The Cannibal'. If Will Graham enters the mind of the serial killer, can he ever come back?
Directed by Michael Mann ('Heat', 'The Insider'), this tense and sometimes brutal thriller stars Joan Allen, Tom Noonan, Brian Cox, William Petersen, Dennis Farina, Kim Greist, and Stephen Lang.
Anchor Bay will release two versions of the film:
Manhunter presents the original theatrical version of the movie as released to theaters (121 mins.) in 1986. The disc will contain an anamorphic widescreen transfer, letterboxed at 2.35:1. Audio is a Dolby Digital 5.1 Surround soundtrack that is THX approved. Bonus features include the featurette 'The Manhunter Look', a conversation with Cinematographer Dante Spinotti, and another featurette 'Inside Manhunter', with stars William Petersen, Joan Allen, Brian Cox, and Tom Noonan, the film's theatrical trailer, talent bios, and a 5×7 theatrical poster replica. The suggested retail price for this disc is $24.98.
Manhunter Limited Edition is a 2-disc set that presents both the original version and Michael Mann's director's cut, which runs 3 minutes longer. Both versions contain an anamorphic widescreen transfer, as above. Sound is both Dolby Digital 5.1 and 2.0 Surround. Extras include everything in the above disc, along with a 24 page collector's booklet with rare photos and more. This edition is limited to 100,000 pieces, each individually numbered. The suggested retail price for this set is $39.98.
Both versions will be available on February 13th.