Get ready to 'Meet The Parents'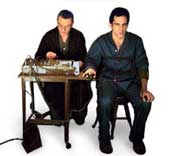 In case you missed it mere weeks ago in theaters, you'll get the chance to enjoy watching Robert DeNiro make Ben Stiller squirm when Universal Home Video releases the DVD of Meet The Parents this March.
A huge comedy hit this past summer, 'Meet The Parents' is the story of a man who spends a weekend with his girlfriend's parents so he can ask for their blessings to marry their daughter. Of course, everything that can possibly go wrong does, and zaniness ensues.
Directed by Jay Roach, this very funny movie stars Robert De Niro, Ben Stiller, Teri Polo, Blythe Danner, Jon Abrahams, and Nicole DeHuff.
The disc will contain an anamorphic widescreen transfer of the movie, letterboxed at 1.85:1. Sound will be Dolby Digital 5.1 Surround. Extras are planned but have not yet been announced.
'Meet The Parents' is scheduled to hit the stores on March 6th with a suggested retail price of $26.98.