Full steam ahead: 'Red Shoe Diaries: The Movie'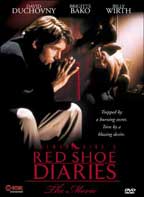 Ah, the pleasures of cable TV. You get to hear people swearing better, killing gorier, and, well, it's certainly a lot clearer exactly where babies come from, yes? Fans of Showtime's The Red Shoe Diaries are particularly aware of this last, as the show always plumbs the depths of the carnal. And now Showtime is preparing the DVD for the original film that launched the series with Red Shoe Diaries: The Movie (Special Edition) (1992).
You've got to love this description: 'He gave her his devoted passion. He offered her a lasting relationship. He promised her a secure future. She thought he was all she ever wanted. Until she met everything she ever desired: the perfect body on the perfect man with a perfect opportunity for having a secret affair with a total stranger.' Yikes, you could get divorced by just watching this thing…
Directed by Zalman King, this movie stars David Duchovny, Brigitte Bako, Billy Wirth, Brenda Vaccaro, and Anna Karina.
The disc comes with a full-frame transfer in the film's original TV aspect ratio of 1.33:1. Audio is a Dolby Digital 2-channel Surround sound track in both English and Spanish. Extras include an audio commentary by actor Billy Wirth, deleted footage, production stills, and filmographies.
'Red Shoe Diaries: The Movie' is scheduled for release on January 16th. It will have a suggested retail price of $19.98.
You must be 21 or older to even read this article….