"Frank Herbert's Dune" series is slated for DVD release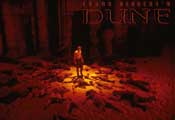 We've just received word that The Sci-Fi Channel miniseries adaptation of Frank Herbert's Dune is going to be making its way to DVD, courtesy of Artisan Entertainment.
The 270 minute series was directed by John Harrison, and stars William Hurt, Giancarlo Giannini, Alec Newman, Ian McNiece, and P. H. Moriarty.
It will first be released to VHS on January 23rd (for those of you who simply cannot wait), but should show up as a Special Edition DVD on March 20th. Included on the DVD will be 'making of' footage, cast & crew interviews, behind-the-scenes footage, and a featurette about the creation of the series' special effects.
We'll have the full details for you as soon as we receive them, of course, so keep checking back with us…