Denzel Washington wants you to 'Remember The Titans'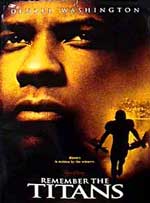 After a very successful theatrical run, Buena Vista Home Entertainment is getting ready for a March DVD release of Remember The Titans.
The movie tells the true story of an African-American football coach who is hired over a white coach at T.C. Williams High School in Alexandria, Virginia. The time is during the early 1970's after the school has recently been integrated, and both the players and coaches must overcome their fears and animosities to become a successful team.
Directed by Boaz Yakin, 'Remember The Titans' stars Denzel Washington, Nicole Ari Parker, Will Patton, Wood Harris, Ryan Hurst, Donald Adeosun Faison, and Craig Kirkwood.
The disc will include a THX mastered widescreen transfer of the film, letterboxed at 2.35:1 and enhanced for 16×9 TVs. Both DTS 5.1 Surround and Dolby Digital 5.1 Surround audio tracks are included (we love this continuing trend of including both when possible!). Extras include an audio commentary, a featurette, additional footage, behind-the-scenes footage, and the film's theatrical trailer.
'Remember The Titans' will be available on March 20th at a suggested retail price of $29.99.