Daniel Baldwin and Claudia Schiffer are 'In Pursuit'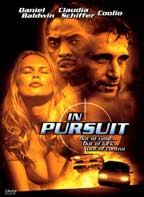 Paramount Pictures Home Entertainment is getting ready to release the DVD of the high speed thriller In Pursuit (2000) this coming February.
When attorney Rick Alvarez is suddenly accused of murdering a powerful businessman, he escapes and is forced to return to Mexico, a place he's vowed never to return to. Trapped over the border and on the run for his life, Alvarez must battle to outsmart a sexy but tough detective, and untangle a frightening web of murder and betrayal.
Directed by Peter Pistor, 'In Pursuit' features the acting stylings of Daniel Baldwin, Claudia Schiffer, Coolio, Sarah Lassez, Ruben Pla, Zina Ponder, and the ever-terrific Dean Stockwell.
The disc will contain an anamorphic transfer of the movie, with both Dolby Digital 5.1 and 2-channel Surround soundtracks. Subtitles are available in Spanish. Extras include an audio commentary, cast/crew bios, interactive film trivia, and the film's theatrical trailer.
'In Pursuit' is scheduled for release on February 27th. The suggested retail price will be $29.99.